Madeleine Ahern
The Taylor Institution Library's Latin copy of Martin Luther's 1520 work On Christian Freedom (De Libertate Christiana) sits in the Special Collections storeroom on a rolling stack among an impressive selection of early modern printed texts from the Reformation. The text is identifiable by its shelfmark ARCH. 8o.G.1521.10 and its brown leather re-bound exterior with the title "Luther Epistola ad Leonem X Liber de Christiana Libertate – 1521" stamped along the spine.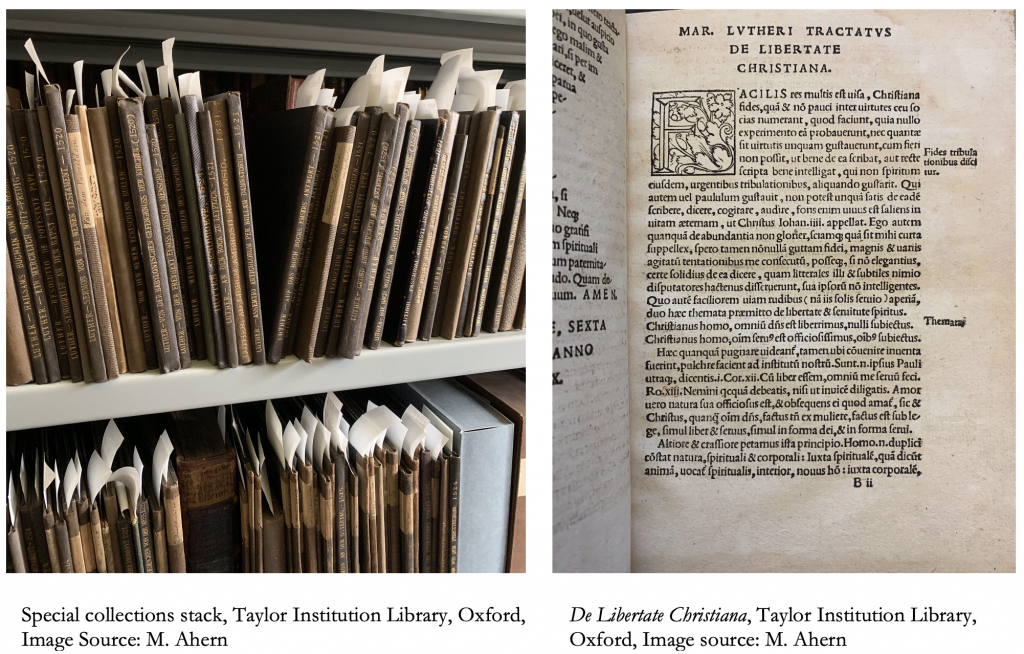 My work to create a digital edition of the text began in early spring of 2020 as a result of the project to make accessible the Taylorian's Reformation pamphlets through a series of digital editions and print publications. As a Graduate Trainee Librarian at the Taylorian with an interest in the Digital Humanities and the History of the Book I was thrilled when Subject Librarian Emma Huber offered the Digital Editions Course, and Dr. Henrike Lähnemann, Professor of Medieval German Literature and Linguistics, suggested I produce this digital edition of De Libertate Christiana for the 500th anniversary of its publication. 
While the pandemic arrived in the UK just weeks before the Digital Editions Course was due to begin, Emma Huber made it possible to complete virtually, and my edition is the result of those first few lockdown months spent in Oxford in which I learned to transcribe and then encode in XML (Extensible Markup Language) following TEI P5 (Text Encoding Initiative) standards.
Initial considerations when producing a digital edition of an early printed book
I was faced with several decisions prior to the transcription process common to the process of creating a digital edition of an early printed book. First, I had to determine which set of transcription conventions to follow. Since I knew the primary readership of the edition would be scholars using it for academic purposes, I decided to follow the guidelines of a semi-diplomatic transcription. The semi-diplomatic distinction indicates that the transcription seeks to mirror the print original, so as to enable for copy-specific comparison where possible and retain something of the early modern page. Given this, I decided to encode original line breaks in addition to paragraph and page distinctions, thereby retaining the appearance of the text-block as much as possible. Ultimately, consistency and accessibility were the primary concerns which guided my editing decisions, as I considered the needs of users who might approach the digital edition seeking out textual and bibliographic features. Scope was also a central consideration, and this Digital Edition does not include Luther's letter to Pope Leo XIII bound alongside De Libertate Christiana in ARCH. 8o.G.1521.10.
Transcribing the text
Working from high-resolution images of each page of the pamphlet that were taken prior to lockdown, I began to transcribe and encode the text line by line, referencing previously transcribed versions as I worked. As printing convention of the period dictated, many words are abbreviated to reflect both scribal traditions remnant from manuscript culture, as well as the assumed knowledge of the early modern reader. I resolved these abbreviations as I worked through the text.
Some examples of abbreviations in the text include:

Standardizing transcription choices:
To further facilitate ease of comprehension and readability of the digital edition as it sits alongside the facsimile of the text, I transcribed long S (ſ) as a modern 's' throughout and adjusted 'u' and 'v' in accordance with modern usage. Additionally, I opted to not encode the ligatures present throughout the text.
Encoding typographical elements
In addition to line, paragraph, and page breaks, I encoded other typographical features as they appeared in the text in order to reflect the page.
Some examples of encoded typographical features include: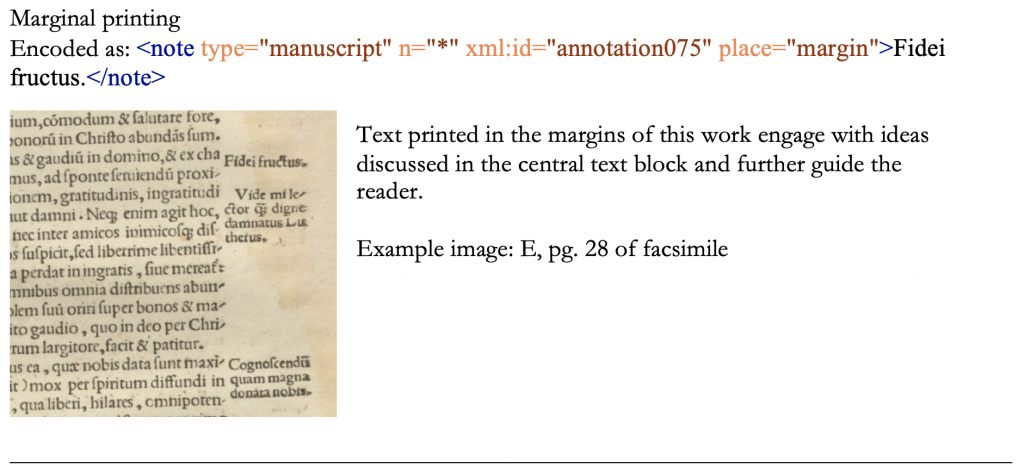 Conclusions
Creating this edition provided me with a wonderful opportunity to work closely with this significant early 16th-century pamphlet and to explore first-hand the role that digitization and encoding play in facilitating remote access to rare book collections for scholars in Oxford and beyond. Now, as a Master of Library and Information Studies student at University College London, I am taking modules on Historical Bibliography and Manuscript Studies, and am finding ways to integrate further Digital Humanities work into my degree where possible. I hope to continue this as I pursue a career in academic librarianship in both the UK and at home in Canada.
Many thanks to Subject Librarian Emma Huber and Professor Henrike Lähnemann for giving me a chance to participate in this project and for their support throughout the process of creating the digital edition.
To access the digital edition: https://editions.mml.ox.ac.uk/editions/libertate1521/
To purchase the print-on-demand publication: https://www.bodleian.ox.ac.uk/taylor/about/exhibitions-and-publications#freiheit