By Isabelle Riepe
The ex libris of the book Trauerspiel by Voltaire suggests it was owned by Theodore Besterman and gifted to the University of Oxford, specifically the Taylor Institution Library. Theodore Besterman founded the Voltaire Foundation, which publishes the definite edition of the complete works of Voltaire and specialises in eighteenth-century scholarship, and bequeathed his book collection to the university following his death.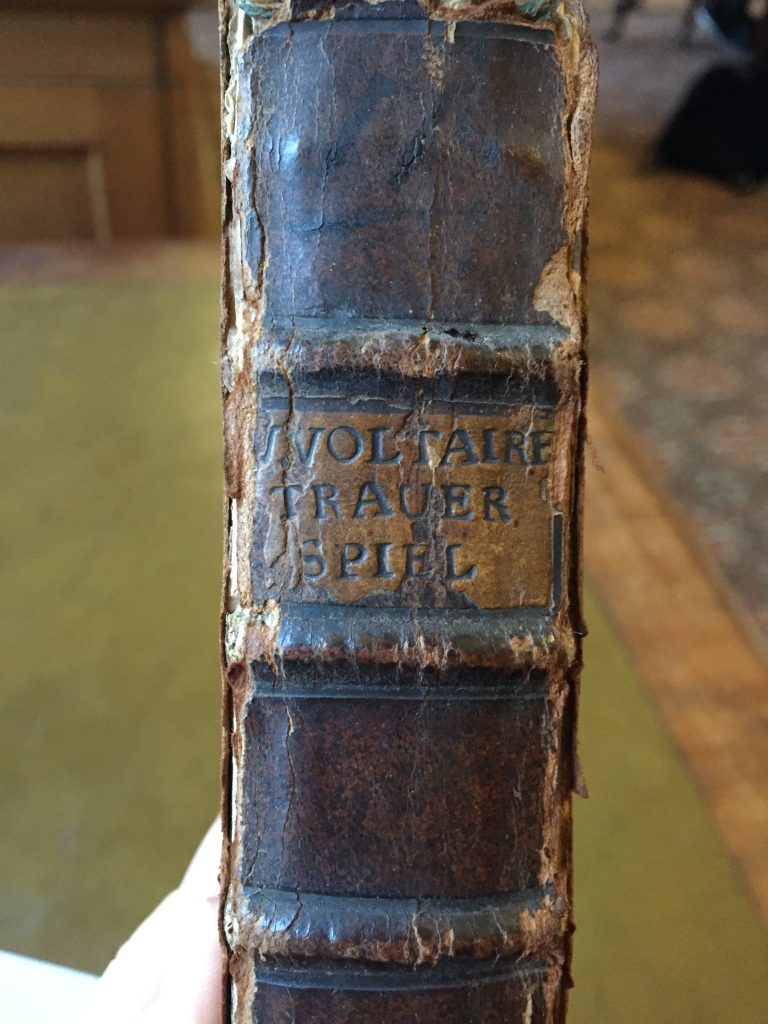 Although the title suggests only one Trauerspiel (German for tragedy), this book actually contains four different tragedies, published between about 1737 and 1756. This raises various questions about when it was bound, by whom and why; whether there is any underlying connection between the tragedies in content, style or theory and ultimately, how and when it reached Theodore Besterman and ultimately the Taylorian. All these will help me with my further research on this very interesting find as part of the Paleography, History of the Book and Digital Humanities course in my MSt Modern Languages.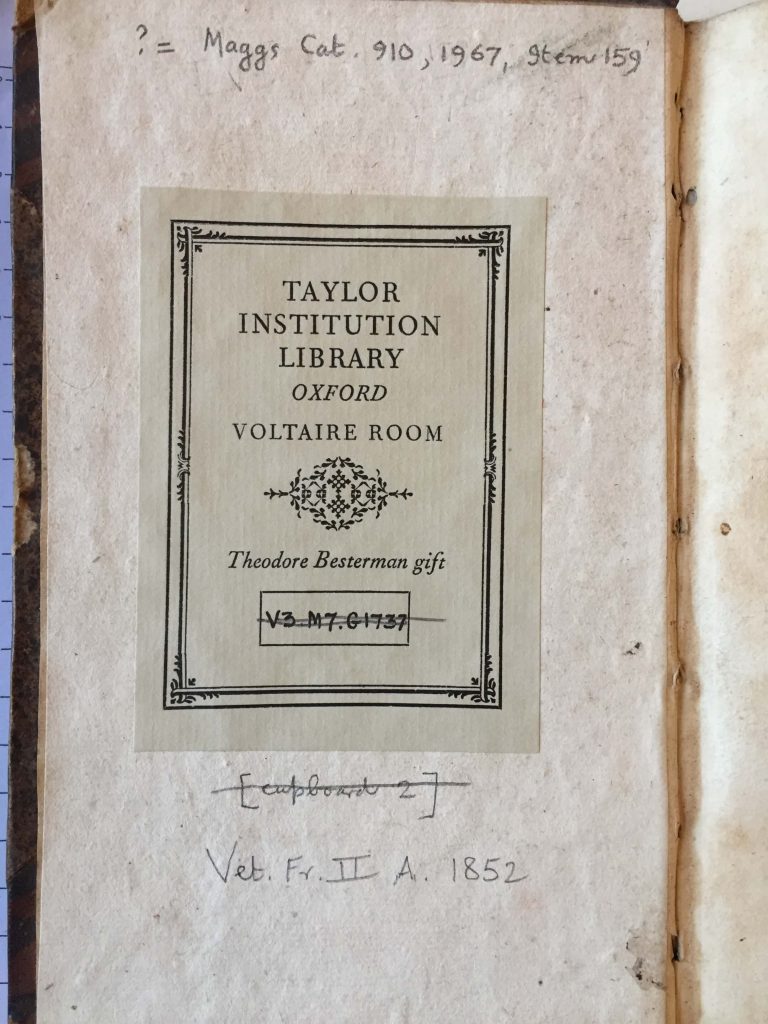 A short introduction to Der Tod des Cäsars uses Voltaire's tragedy as an example to discuss German scholarship on the rules of tragedy. A short epilogue gives an extract of a translation of Voltaire's Henriade. Both accompanying text were written by Christoph August Lämmermann for the Pegnesischer Blumenorden. The Pegnesischer Blumenorden is a literary society in Nuremberg, founded in the seventeenth-century, that has continued into the present day.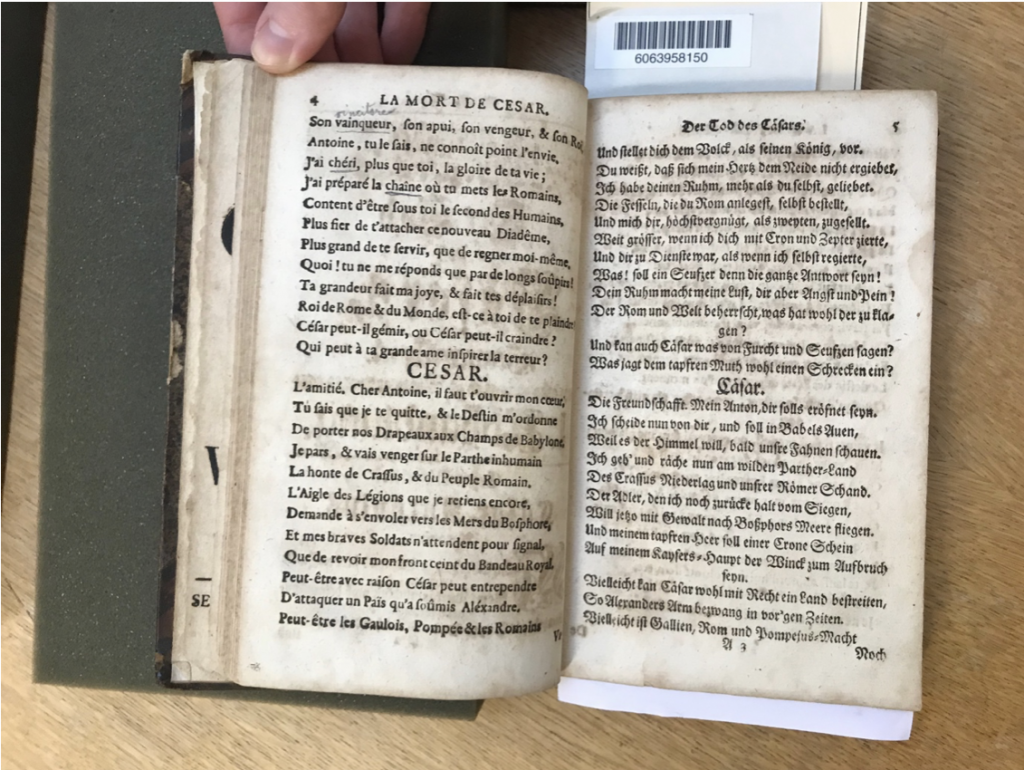 The other tragedies are Rhynsolt und Sapphira, a German tragedy by Christian Leberecht Martini printed in 1755 in Altona and Leipzig and an undated print from Nuremberg of a German translation of Sophonisbe, a tragedy by Nathaniel Lee from 1675. The last tragedy is a German translation of Voltaire's L'Orphin de la Chine (German: Der Waise in China) printed in 1756 in Breßlau (the German name for the Polish city of Wrocław). This edition may be one of the first translations of Voltaire's play, another edition from 1763 printed in Vienna is available online.
The four tragedies vary in paper quality, publishing location, authors, illustrations and fonts. Nevertheless, they vaguely fit into a time period of about twenty years in the eighteenth century which might suggest an educational or collecting intention behind the binding of a book of tragedies. This is reinforced by the dedication of the translation of La Mort de Cesar to the Pegnesischer Blumenorden.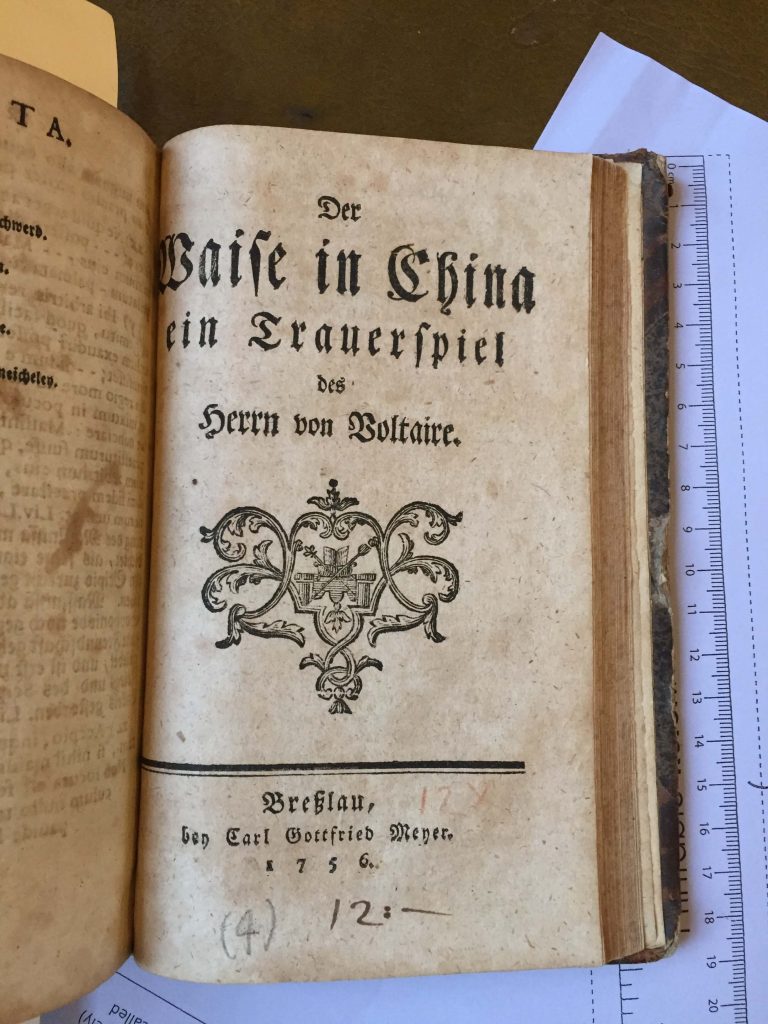 Many mysteries about this books remain – stay tuned!
Voltaire Trauerspiel, Taylor Institution Library. Shelfmark: VET.FR.II.A.1852(1)