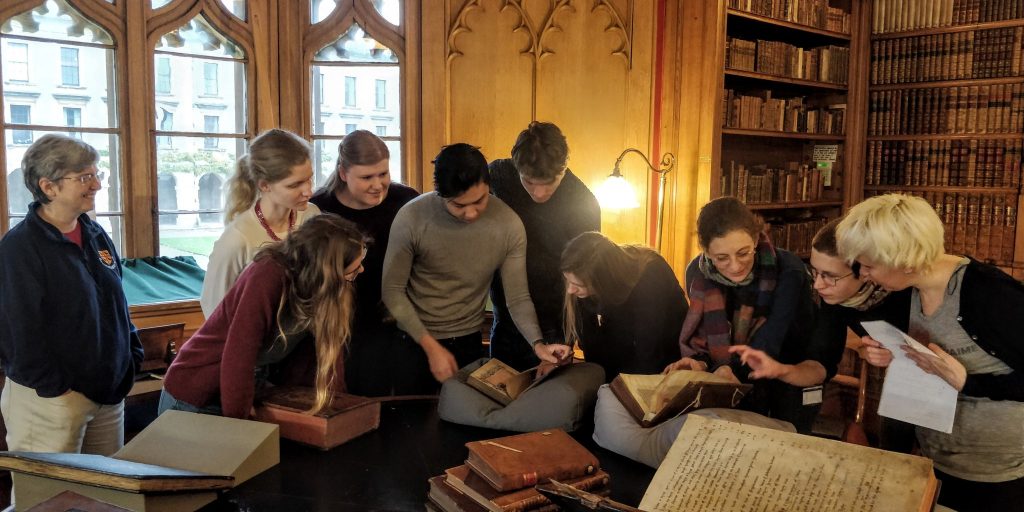 The combined workshops and seminars for the Palaeography, History of the Book and Digital Humanities provide training in dealing with manuscripts and books across different historical periods and European languages. The aim is to combine philological training with project work which takes seriously the material turn in Modern Languages and will enable students to do editorial work in the age of Digital Humanities. Within the framework of knowledge exchange, these method options cooperate with the local libraries and printers to make use of the unparalleled richness of Oxford resources, especially the Taylorian Institute and the Centre for the Study of the Book.
1) Wk 1 (16 Oct): Show & Tell Introductory Session (Taylorian, Graduate Study Room)
Treasures of the Taylorian with Henrike Lähnemann, André Penafiel and Emma Huber.

2) Wk 1 (Friday, 18 Oct, 9–12noon): Engaging with Print (Bodleian, Print Room)
Workshop on typesetting and printing pamphlets with Richard Lawrence

3) Wk 2 (23 Oct): Digital Tools (Taylorian, Room 2)
Introduction to apps, blogs and social media with Henrike Lähnemann and Emma Huber

4) Wk 3 (30 Oct): Understanding Book Trade (Taylorian, Room 2)
Session with Cristina Dondi on Circulation of Early Printed Books

5) Wk 4 (6 Nov): Palaeography (Weston, Visiting Scholars' Centre)
Introduction to palaeography with Colleen Curran

6) Wk 5 (Friday, 15 Nov, 10–12noon): Historic collections in historic and modern contexts (Magdalen Library)
How to handle old books and care for the collection with Daryl Green

7) Wk 6 (20 Nov): Masterclass Materiality (Bodleian, Conservation Department)
Workshop with Andrew Honey and members of the Conservation Department

8) Wk 7 (27 Nov): Understanding Text-Image-Relationship (Bodleian, Horton Room)
Seminar with Daron Burrows on Apocalypse Manuscripts

9) Wk 8 (4 Dec): Defining your Project (Taylorian, Room 2)
Abstract writing workshop for Hilary Term Project; matching up with supervisors

At the end of Hilary Term each student submits an essay of between 5,000 and 7,000 words. The coursework leading up to it consists of a portfolio of regular practical tasks such as writing a blog post, setting up a Flickr site, test transcriptions, basic xml encoding and catalogue entries for books. Ideally, the essay focuses on source material available in Oxford libraries.