Katie Bastiman and Holly Abrahamson
It is currently Week 0 of Hilary term 2021, so it's time to get to work on our project for the History of the Book module. Holly and I have decided to work together to produce an online edition of a manuscript. We both love Dante's Divina Commedia so we have decided to work on MS.Canon.Ital.108, which is a gorgeous late 14th Century copy of this work.
Holly identified this manuscript as a good choice for us, since it is already digitised and available online, which will be crucial this term with the uncertainty about being able to go into libraries, and particularly because I'm currently studying from home in the Channel Islands. We also love this manuscript because of the beautiful illuminations, which we hope to draw attention to through social media content.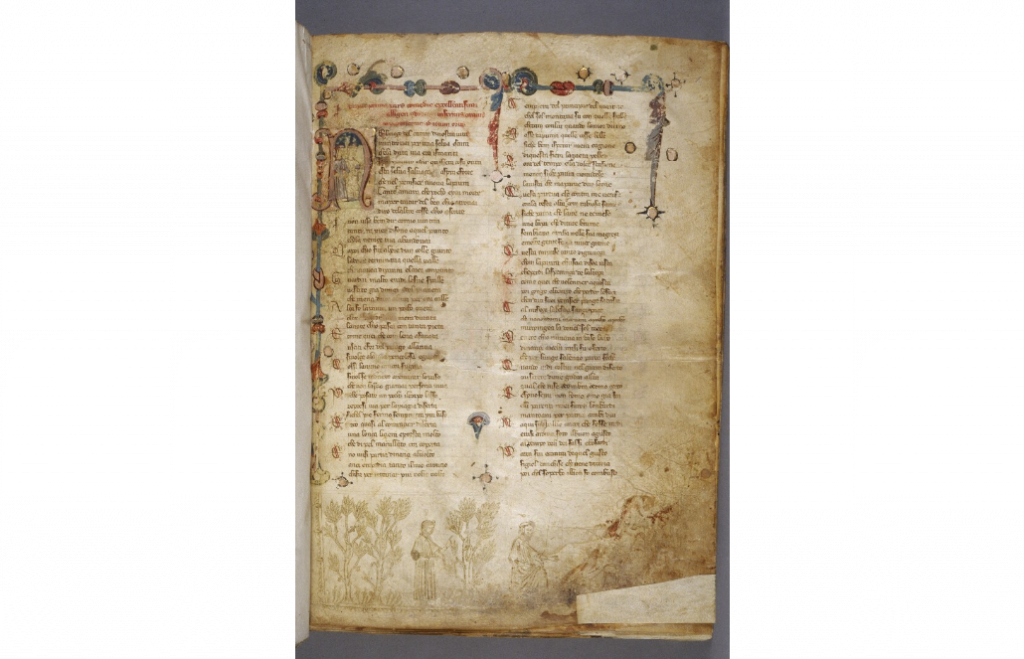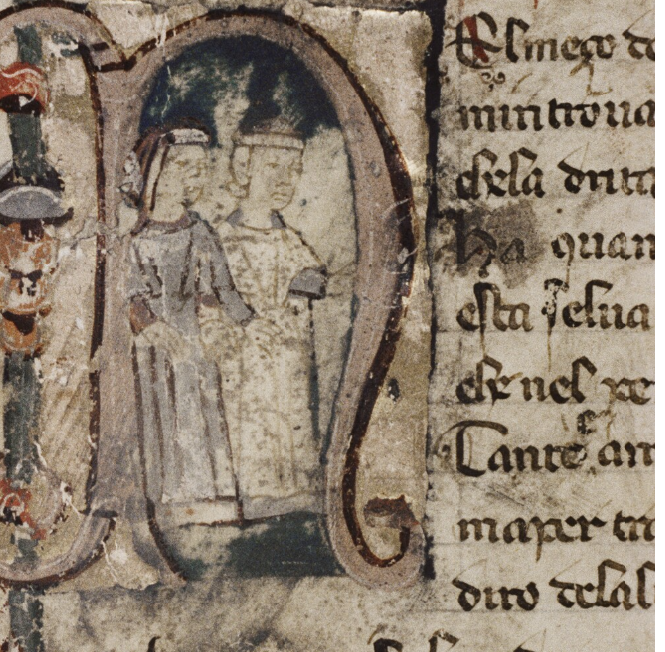 Choosing the Text
Dante's Commedia is a very long poem in three parts called 'canticles' – Inferno, Purgatorio, and Paradiso (or Hell, Purgatory, and Paradise). Each of these canticles is divided into 33 shorter sections called 'cantos' which function a little like short chapters, breaking up the poem. There are 100 cantos in total (including an introductory canto at the beginning of Inferno). We are hoping to produce an edition which spans the whole of Ante-Purgatory, the first section of Purgatorio.
Ante-Purgatory seemed like a good area of the poem to focus on for a few reasons. Firstly, Holly and I both share a love of the central canticle, Purgatorio, because of the content and themes present in this section of the text. Secondly, Ante-Purgatory can be seen as a coherent unit within the wider poem and should be a reasonable length for us to work with. Ante-Purgatory includes cantos 1-9 of Purgatorio. In our manuscript, each canto takes up about one and three quarter pages; Ante-Purgatory will take us from folio 32 to folio 40. This section of the Comedy is close to my heart, since almost a year ago in February 2020, I put on a choir concert entitled "Dante and the Music of Ante-Purgatory". During the concert, I narrated the storyline of these cantos and then sang settings of the various psalms and hymns referenced in this section of the poem with my college choir. I'm therefore particularly excited to be returning to looking at Ante-Purgatory this year, with more of a focus on the way in which this text has been preserved in the manuscript that we have chosen.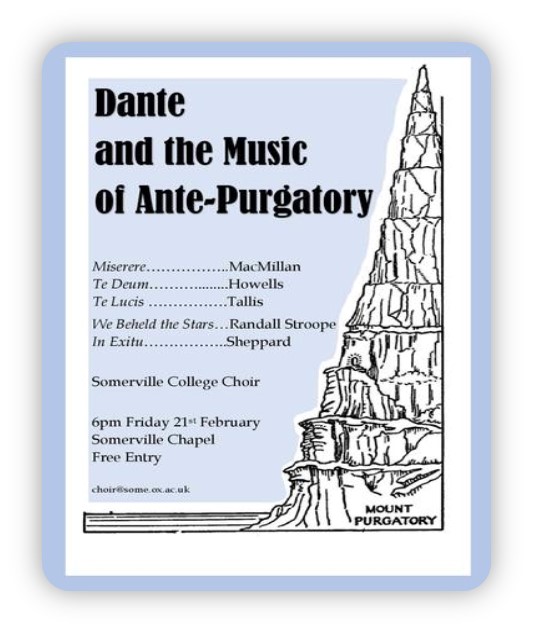 The Online Edition
Holly and I have both begun working through the Taylorian's virtual lectures on how to create an online edition. Neither of us has undertaken a project of this nature before so we aren't entirely sure of what to expect, but we're certainly excited to see what we can produce. It's a lot of new information but the lectures are very clear and Emma Huber who leads the course has expressed to us that we can ask her for help if we get stuck, which I'm sure will come in handy over the next few weeks!
We're really hopeful that we can produce an online edition which is useful and serves a real purpose in helping those who make use of it to engage with the manuscript. Our target audience is probably students and scholars who are studying Dante – since Dante's work is widely available in modern editions and translations, people are unlikely to access our digital edition as a first introduction to this text. Rather, it will be of interest to those who already have some familiarity with the text and who are perhaps less familiar with how it has been transmitted through manuscripts.
Since the manuscript is also aesthetically beautiful, this should add an extra element of enjoyment for anyone using our digital edition.
Our plan is to create a digital edition which allows the user to compare an image of a page of the manuscript, a transcription of the text on that page, and a translation of the text into English. Depending on the speed with which we are able to produce this, we are open to potentially providing translations of the text into other languages as well – Holly speaks German and I speak French. Since we are right at the beginning of this project, it's difficult to predict how much additional time might be needed to add a German translation, for example, but if we do have time left at the end then we might try and incorporate this to add another element to our finished product.
We are hoping to use an existing and freely available English translation, such as the one by Robert Hollander which can be accessed online.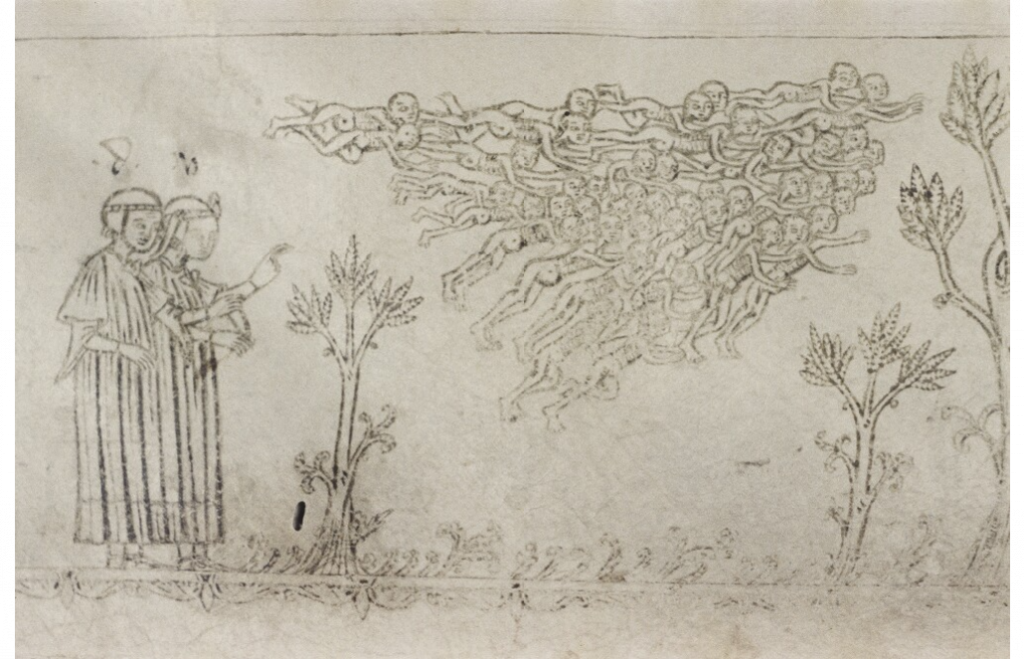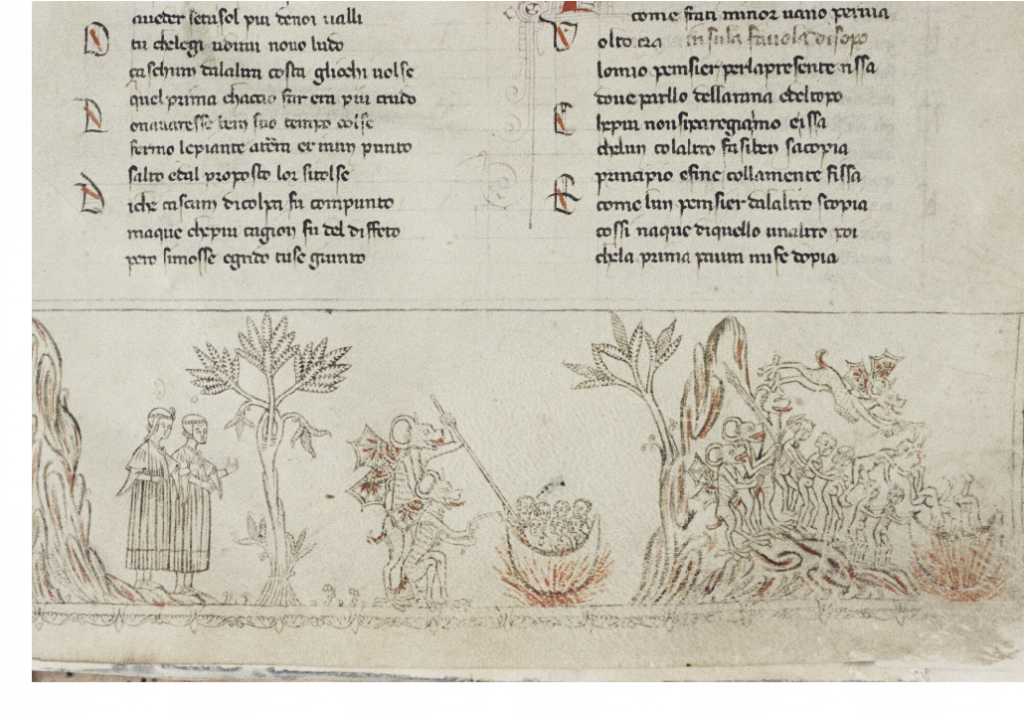 Social Media Engagement
We are going to use social media to get the word out about our digital edition project, and also to share some of the beautiful illuminations from the manuscript. We are going to finalise our plan for this part of the project in the next few days, but our current thinking is that we will post twice a week on Twitter, using a new account specifically made for this purpose. We considered using an account I already run called @Daily.Dant3, as I already have a small following of Dante academics and medievalists there, but we think that a new account will allow us to post everything to do with this project in a more coherent and focused way. We are aiming to post content from 0th week (this week) through to the end of 8th week, which will comprise 18 posts in total. Since the third canticle, Paradiso, is lacking in illuminations and decorative detail in our manuscript, we will be focusing on the first two canticles for this element of the project.
Our plan is to showcase an image from the manuscript, alongside the shelf number and a tercet of text which is relevant to that image, and to provide a short description and explanation of what it depicts. We should be able to show snapshots from moments in the text over the first two canticles of the Commedia, which will give us an opportunity to engage with more of the manuscript than just the section we are working on for the digital edition. This may also attract more attention online since Inferno is probably the most accessible and most studied of the three canticles.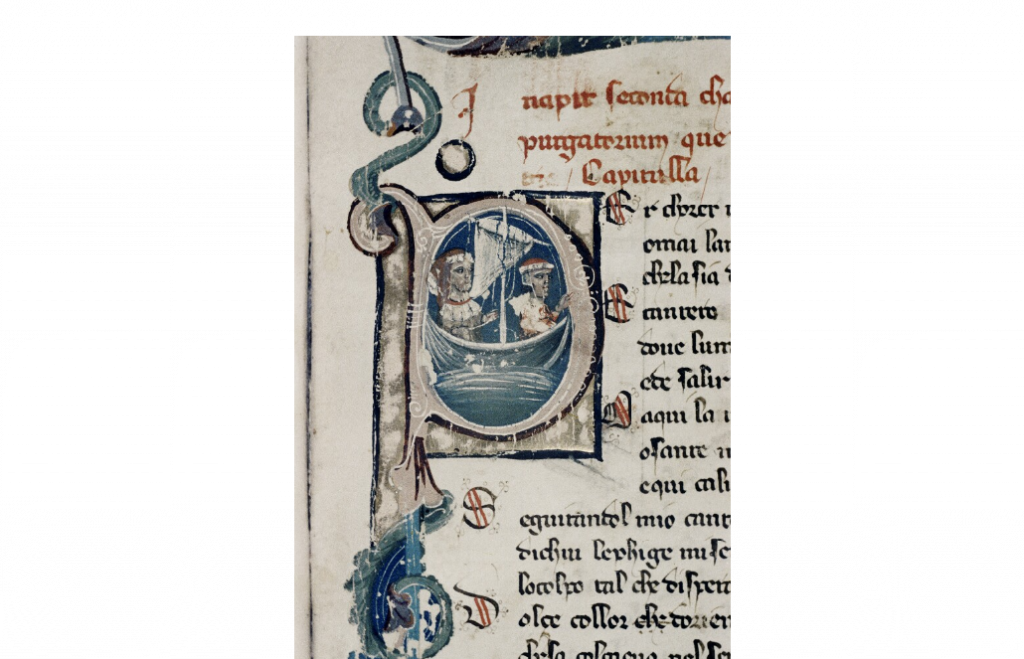 We hope that through our use of social media, we will be able to bring our project to the attention of those who might find our digital edition useful. Overall, we are really excited to get to work on this project, and we hope to report back at the end of term about what we've achieved!


Katie and Holly are both studying the MSt in Modern Languages at Somerville College, and have both chosen modules this year on Dante and medieval Italian lyric poetry alongside their History of the Book module. Katie did her undergrad in French and Italian, also at Somerville, whereas Holly did hers in German and Italian at Pembroke College. Katie enjoys singing in Somerville College Choir, and mentioning that she's from Jersey whenever possible. Holly grew up in Australia and so enjoys sailing, playing tennis, and writing letters from Oxford.