My time as an Erasmus+ intern at the University of Oxford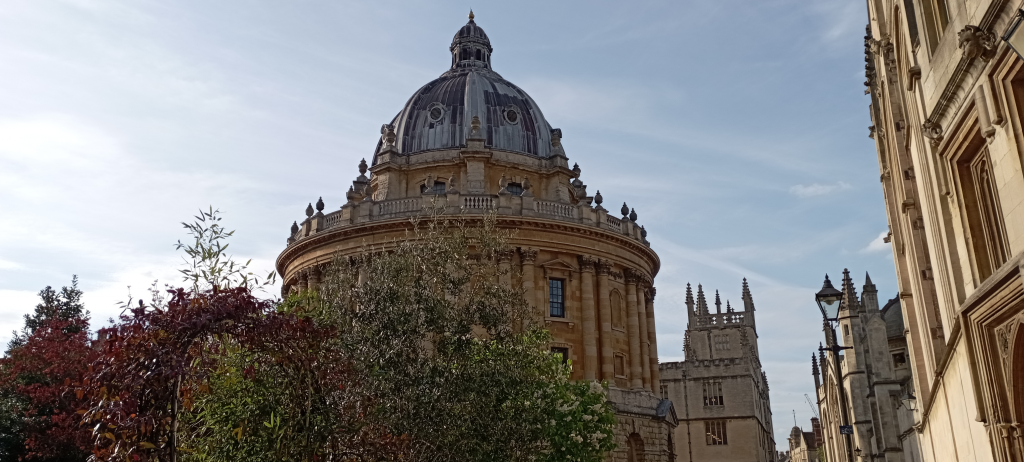 Isabel Sophie Reichenbach
How does a history student from Mannheim end up behind a camera in the churchyard of an Oxford College? Filming the Medieval Mystery Cycle was just one of the weird and wonderful experiences as an Erasmus+ intern with Prof. Henrike Lähnemann during Trinity Term 2022. In this blog post, I will take you with me and report about my courses, projects, and experiences at the intersection of Medieval German Studies and my stay in Oxford.
Before I started my internship, I had no idea how varied and exciting my time in Oxford would be. In my imagination, I saw myself sitting with old manuscripts behind thick stone walls, between metre-high bookshelves in old libraries and pursuing my fascination for the Middle Ages. Which, as it turned out, would be only a small part of my Oxford experience.
I arrived in Oxford on 15 April 2022, Good Friday, just in time for Trinity Term. Contrary to the typical German prejudice that the weather in England is always rainy, I was greeted by the most beautiful sunshine, which accompanied me for most of the term.
Warmly welcomed by Prof. Lähnemann and immediately equipped with a bicycle, I could hardly wait to the next morning to explore the city sights, the museums and, of course, the university. My first impressions were overwhelming, my expectations exceeded – Oxford is an impressive city with an ancient urban history, shaped by Anglo-Saxon and Norman historical backgrounds and a fascinating mystical atmosphere where you can feel the flair and influence of the university history everywhere. Wherever I looked, fortified towers and church steeples rose from the bright walls, which had already captivated me in seconds.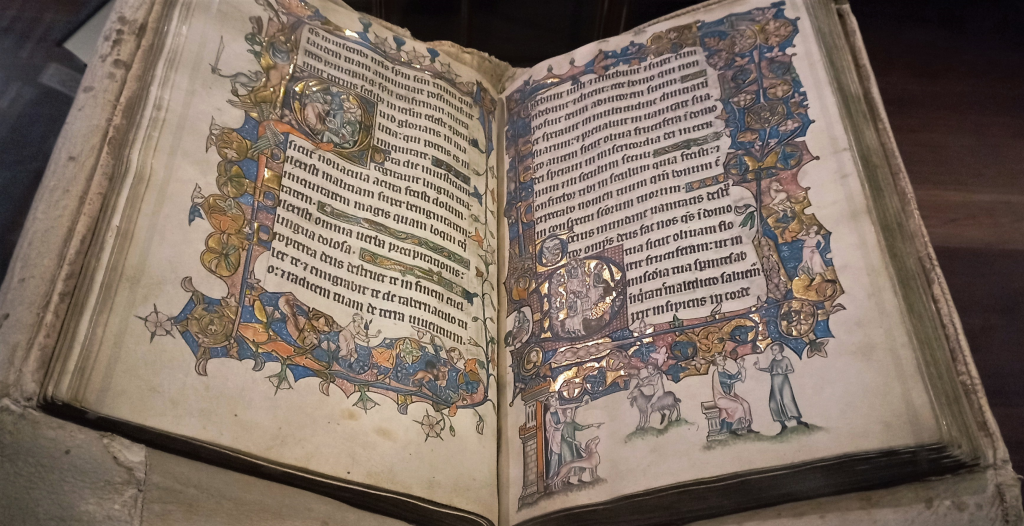 The Oxford Medieval Mystery Cycle 2022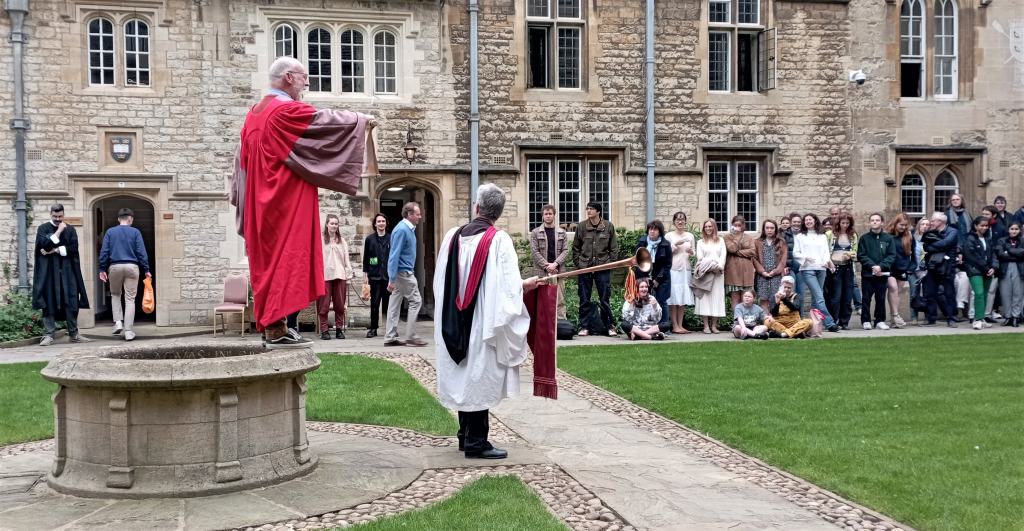 I quickly learned that studying history is more than just leafing through old books and manuscripts. On Saturday 23 April, the Medieval Mystery Plays took place at St Edmund's College. Instead of just reading about the Middle Ages, I was able to experience history first hand as important episodes from the Bible were performed in medieval languages such as Middle High German and Middle English. These plays were performed by various Oxford Medieval Studies groups who slipped into different biblical characters and brought the story of "Noah" or "The Crucifixion" to life in a very humorous way. I didn't think beforehand that the beheading of "John the Baptist" would create such a hilarious and fun atmosphere.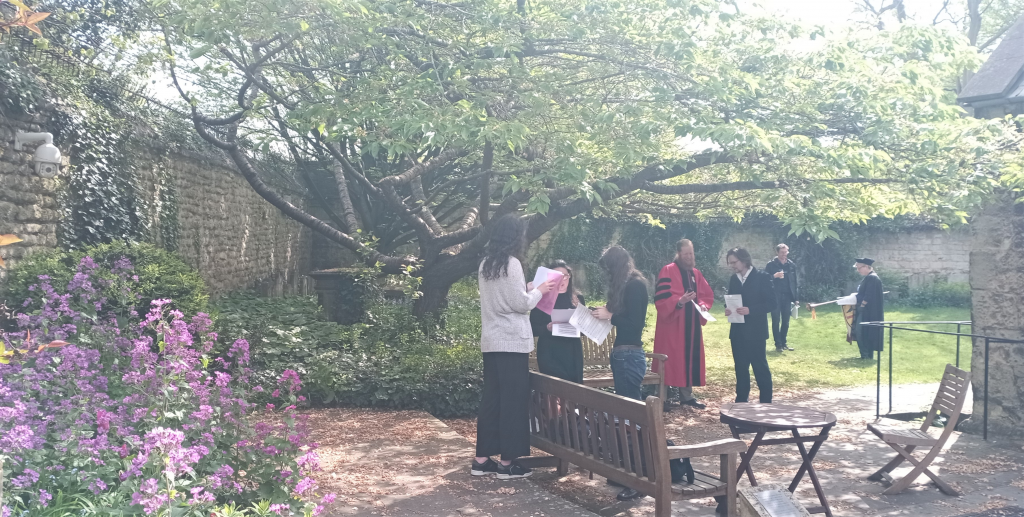 Together with Natascha Domeisen, a D.Phil. student in Medieval German at Oxford University, I was part of the film team. We not only filmed the individual performances, but also broadcast the event live on
St Edmund Hall's Youtube channel. This gave me not only an insight into the art of medieval theatre performance, but also practical experience in media skills in filming and in dealing with social media, which I was able to gather in the days before by writing blog posts about the event.
Medieval German Seminar
Since my internship was not only about filming medieval dramas, and as a historian my focus was on medieval literature, the Medieval German Seminar was an important part of the term. We discussed the "Büchlein der ewigen Weisheit" (Little Book of Eternal Wisdom), written in 1330/31 by the Dominican Heinrich Seuse. The focus of the book is to give the reader concrete pastoral and religious guidance.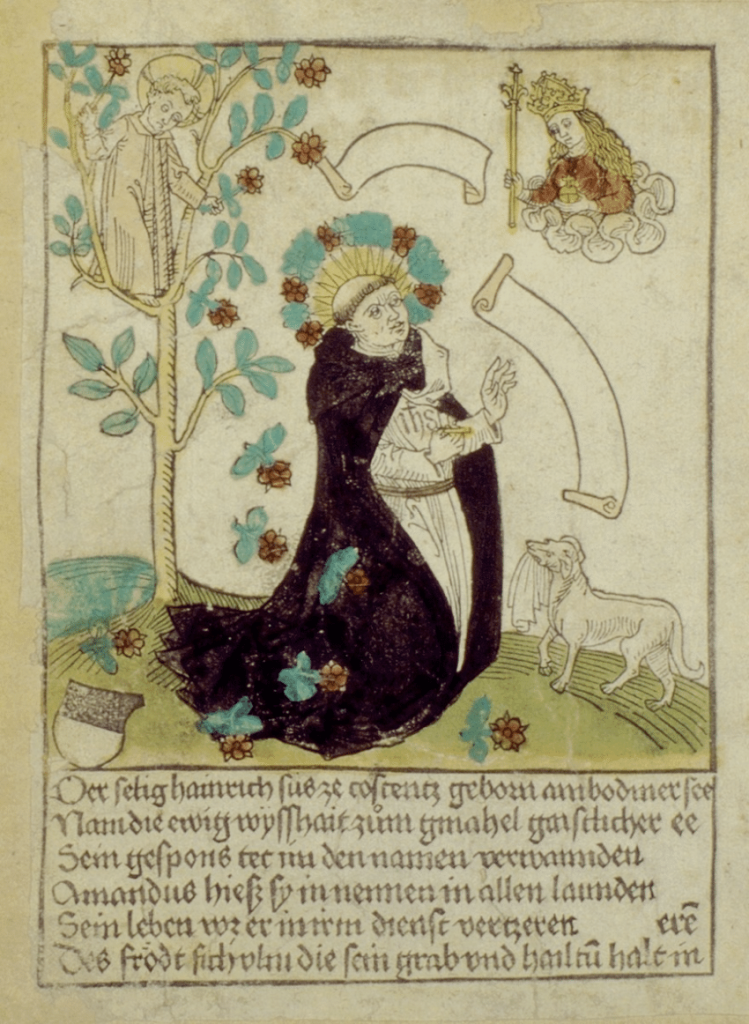 It is also assumed that Seuse's intention was also for nuns to transmit the content to the audience. The book is written as dialogue between "Eternal Wisdom" and its "servant", who is supposed to reach the highest agreement with God through this conversation. The fact that the work reached a European readership though its translated into Latin under the title "Horologium Sapientiae" was only one valuable topic of this seminar. This revised edition was intended to expand the circle of readers to include a theologically educated audience and also served to spread Christian thought throughout much of Europe.
At a large oblong table, surrounded by old books and manuscripts, we came together and discussed Seuse's work over English tea – I could hardly have imagined a more suitable place for the seminar than the Old Library in St Edmund Hall. I particularly enjoyed the seminar because it was made up not only of students, but also regularly attended by academic staff, academic visitors as well as visiting German students. This makes for a very convivial and interactive discussion group that is committed to getting to the bottom of the mysteries and origins of medieval texts. Based on weekly presentations outlining specific topics, we discussed, for example, the imagery and metaphors of the work, connections with "Minnesang", linguistic peculiarities of the Low German version as well as characteristics of certain addressees of the reading public.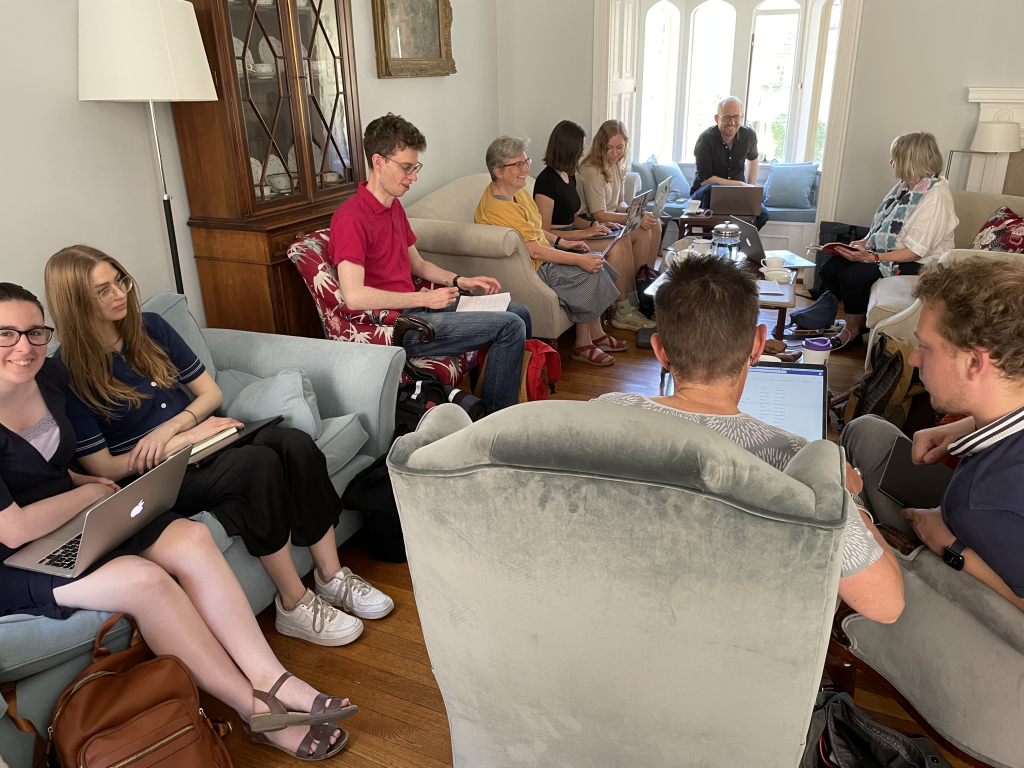 Nuns and letters
The written sources of the Middle Ages include not only manuscripts, of course, but also letters, among other things, which serve historians as useful remains to better understand and reconstruct the past and the lives of people. Letters also played an important role in my internship. The project I was allowed to support was the research project "Networks of Nuns", which, under the direction of Prof. Lähnemann (Oxford) and Prof. Eva Schlotheuber (Düsseldorf), deals with the transcription, edition and digitisation of a total of 1,800 letters written by nuns from the convent in Lüne/Northern Germany (c. 1460–1555).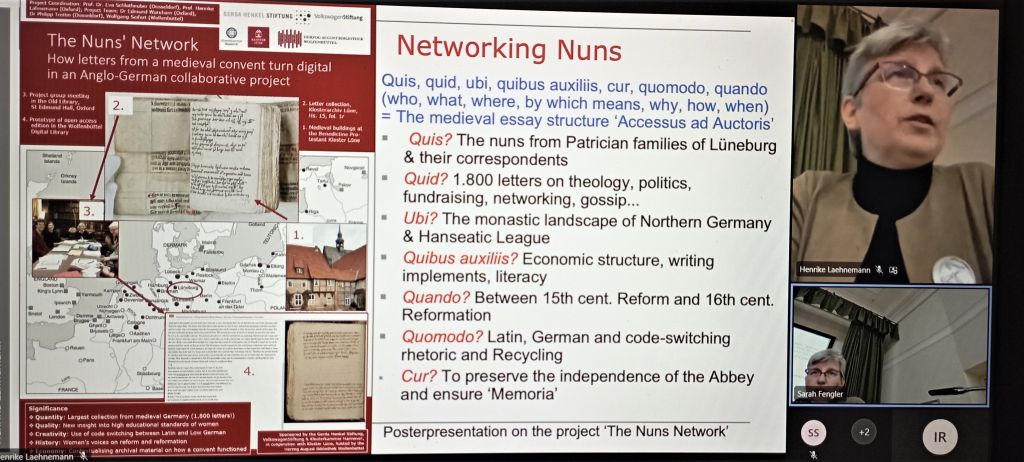 One of my tasks was to proofread the summaries of the letters, which was very interesting and informative, as one can learn a lot about the nuns' written communication from the letters. We know what everyday topics moved the writers, what they exchanged about in terms of convent administration and how networked the women's convents were with each other.
Furthermore, I was able to attend meetings and witness the collaboration with EMLO, a site that makes historically relevant letters available in digitised form. But why are the Digital Humanities becoming more and more important? Making sources such as letters and manuscripts available in digital form provides entirely new methods of presentation and analysis and thus offers new possibilities for scholarly work. For me, who was not very familiar with the digital humanities, this experience was very instructive and gave me an insight into the work on a historical research project, the complexity of tasks such as editing and giving lectures in the field of digital humanities.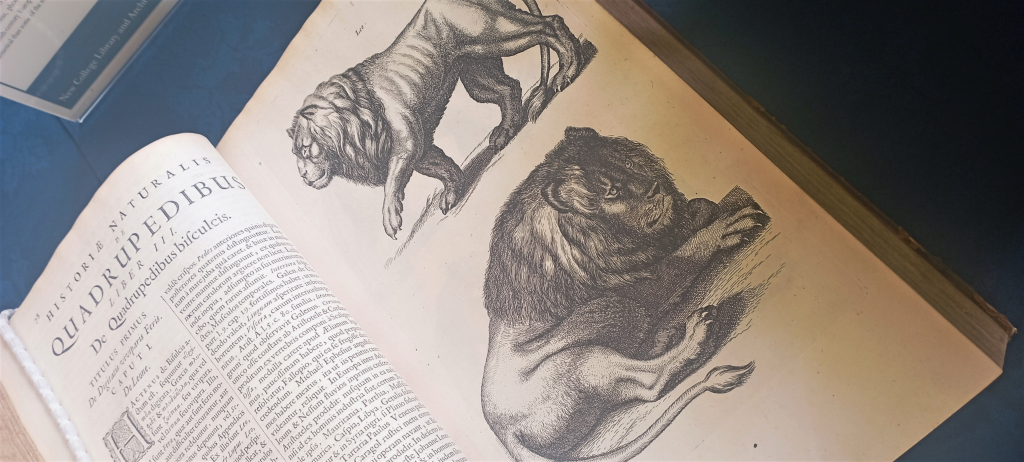 In addition to the fixed dates during my study week, I had the opportunity to attend further seminars and lectures on medieval history. The university has a large and wide range of courses that give you an insight into various medieval topics, such as the lecture "Material Fragments from an Extinguished Convent" by Caroline Danforth https://www.youtube.com/watch?v=g_gat38OmCU. I was also very impressed by the exhibition on medieval botany and zoology (Botany and Zoology Treasures), which was on display at the New College Library.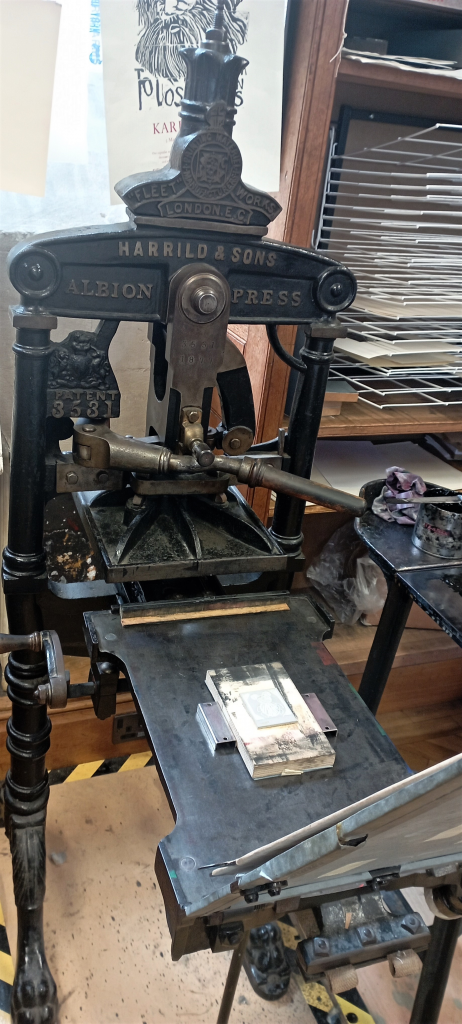 I also got to know craftsmanship and practical work during my time in Oxford. At a workshop in the Bibliographical Press of the Bodleian Library, I was allowed to print an anniversary card on an old printing press. This gave me the experience to immerse myself in the time of the first book printers like Johannes Gutenberg in the 15th century.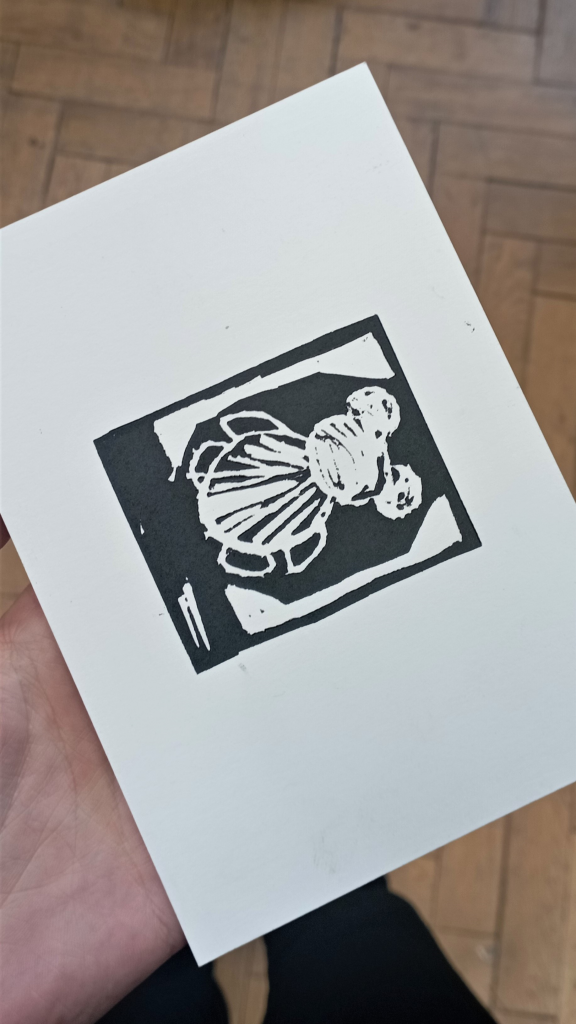 Another highlight of my stay was the Medievalist Coffee Morning which takes place every Friday in the Weston Library's Visiting Scholars Centre. Led by Dr Chris Fletcher, Keeper of Special Collections at the Bodleian, I had the opportunity to see unique objects and manuscripts from the Bodleian Libraries' collection on display here every week. During my time there, I admired a variety of books from different countries and centuries, together with history and medieval enthusiasts. One of the most fascinating experiences was to see manuscripts related to Prof. Nigel F. Palmer: a Bavarian prayer book donated by him and a miscellany presented in honour of his 70th birthday in 2017 to the Bodleian Library. I had the honour of filming this presentation by Prof. Lähnemann and Dr Andrew Dunning, one of the manuscript curators of the Bodleian Library.
College Life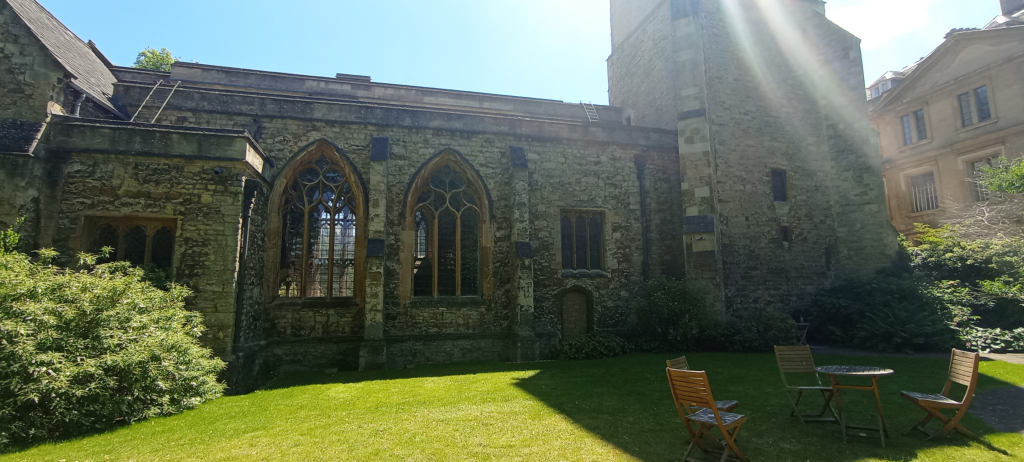 I became a member of St Edmund Hall, one of the oldest academic institutions in Oxford, founded around 1278 and named after St Edmund of Abington, the first known Oxford Master of Arts. Surrounded by ancient stone walls, St Edmund Hall, also known as Teddy Hall, has a beautiful front quad and the garden with a church housing the library.
When my family and friends asked me how I would describe university life in Oxford, the first thing that came to my mind was the comparison with the Harry Potter novel series, because the college system is structured in a fundamentally different way to the one in Germany, which often left me astonished in the early days. And this didn't just include the large dining halls, various college communities and their typical coats of arms or the gowns worn by students and teachers on certain occasions, such as dinners – and there can be quite a few – or exams.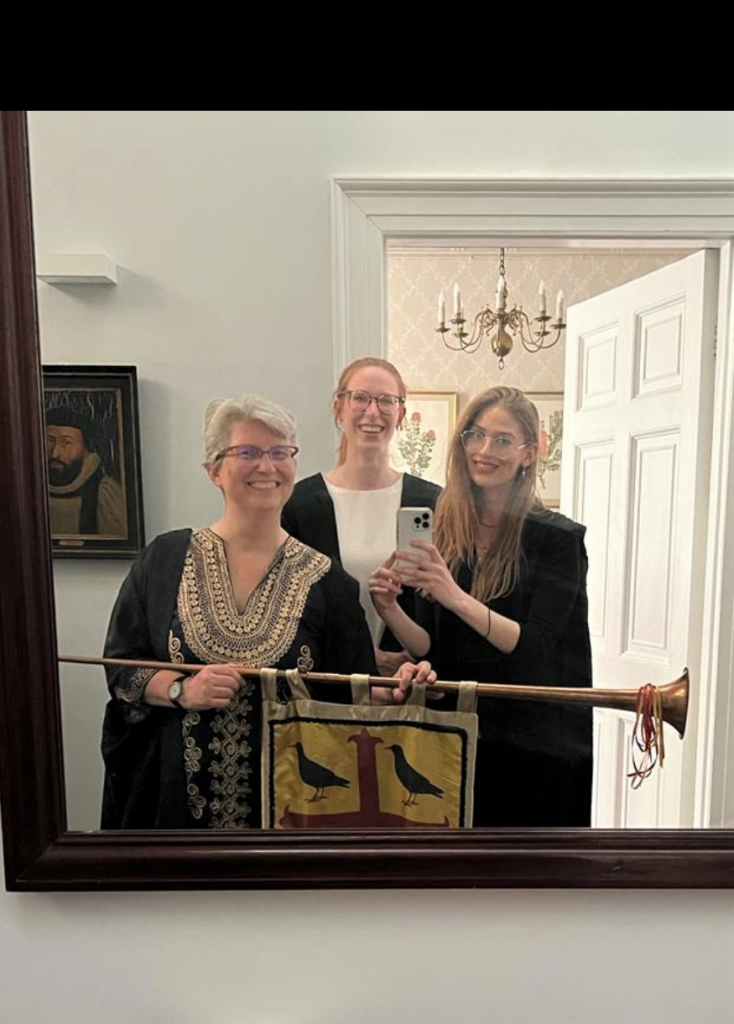 In general, eating together plays a much bigger role than I had previously known. To my surprise, I found myself first looking at the rules for the traditional "Formal Dinner", to which I was invited several times by Prof. Lähnemann, and I was quite impressed by the Teddy Hall food, which incidentally is supposed to be one of the best in Oxford, as I was often told. Indeed, the food was excellent, as was the mood of the students, which made the dining hall an impressive experience in this very traditional setting. In general, there is a lot of emphasis on tradition in Oxford which gives it a special feel. As Prof. Lähnemann used to say, "Anything that's been done more than twice is a tradition!" when yet another tradition caught my eye.
Finally, I would like to thank Prof. Henrike Lähnemann for making my awesome Oxford experience possible and for beeing so supportive and helpful during the time. Furthermore, my thanks go to the Erasmus+ programme and everyone who supported my stay in Oxford! Thank you! 🙂
***
Isabel Sophie Reichenbach studies history in Mannheim/Germany. In Trinity Term 2022, she worked as an Erasmus+ research intern with Henrike Lähnemann, Professor of Medieval German Literature and Linguistics, at the Faculty of Medieval and Modern Languages at the University of Oxford and became an Associate Member of the MCR at St Edmund Hall.