A personal encounter with MS. Lat. liturg. f. 4
by Marlene Schilling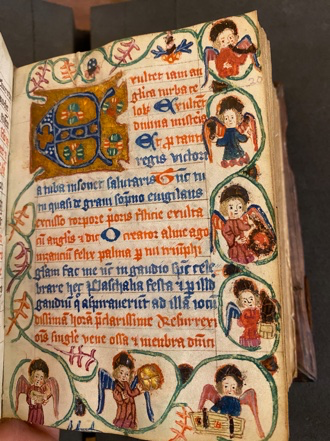 For my generation it is perfectly normal to meet a partner first online, with dating apps on the rise during the pandemic – but the ultimate desire is to meet in person. This is the story of such a longed-for encounter in the flesh, skin-to-skin.
I first met Bodleian Library, MS. Lat. liturg. f. 4 (a prayer book with the sigla, aka nickname, O1), the manuscript that I intend to spend the majority of my final term at the University of Oxford with, online. We were introduced to each other by Prof. Henrike Lähnemann back in the summer of 2020 and from my part, it was love at first sight.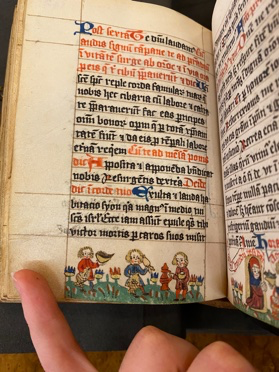 O1 is one of more than fifty surviving manuscripts (and counting!) from the Cistercian convent Medingen near Lüneburg in Northern Germany. These prayer books were written and richly decorated by the nuns themselves as private devotional aid following a typical house style. O1, written and revised in the course of the 15th and early 16th centuries, is an example for one of the Easter prayer books, with a combination of prayers, devotional instructions and songs, both in Latin and in the local Middle Low German dialect. O1 was digitized as part of the Polonsky German project, which allowed me to already get to know and actually work with the manuscript for another blogpost focussing on the personification of Easterday even before my arrival in Oxford for Michaelmas Term 2020.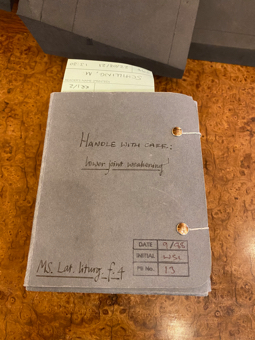 While I was eagerly looking forward to personally see this prayer book in the Weston library, my busy schedule for that term unfortunately did not allow me and the manuscript to see each other for a one-on-one date. We could only briefly meet in a larger group in one of the sessions for my 'History of the Books' course, of course following social distancing guidelines and with no time for private conversations or skin-to-skin contact.
After the second (or third? I have lost count!) Covid-wave prevented a meet-up in the first two months of the new year, forcing contact again to remain online, I was now finally able to see O1 in person in the end of March 2021. After 10 very, very long days of quarantine following my return to Oxford, I easily scheduled a meeting with O1 with the help of the most impeccable wingman, the Special collections department at the Weston library.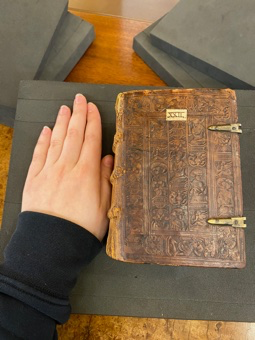 I was quite nervous when I arrived in the Weston's Mackerras Reading Room (as you normally are on a first date) and was then shown to our allocated desk in the Rare Books and Manuscripts Reading Room, where O1 was already waiting for me. Sure, I had seen (digitized) pictures of the manuscript, but if you go on the first in-person date after meeting online, you never know what your opposite is actually going to look like. In many ways O1 looks like the digital representation, but there are a lot of characteristics that just cannot be transported by a digitized image. And so the first thought that came to my mind, when I got the manuscript out of its customized box protecting it, touching it for the very first time, was: "Oh, it's so tiny!"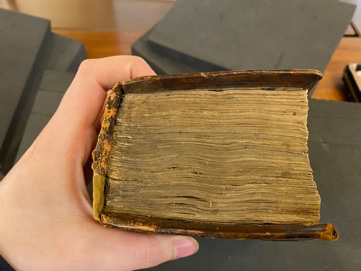 It is just a little taller than my hand, but really fat (should BMI be used for characterising the proportions of a manuscript?), something that does get lost in the digital representation even despite the accompanying ruler. These proportions make it comparatively challenging to handle the manuscript without straining the back of the book too much. Luckily, my 'History of the Books' course had excellently prepared me for that moment and I was able to carefully work with the manuscript in preparation for my dissertation thesis project.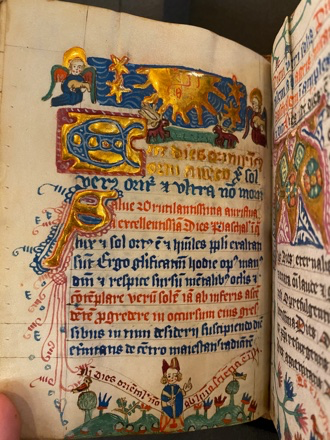 The project will focus on the personification of Easter Saturday night and analyse its function within the Easter liturgy and the characteristics attributed to this personification, which is more or less always positively connoted. While I initially wanted to solely focus on the textual side of O1, I am now aware that this would limit my analysis and my argument, since the material aspect of the manuscript actually highlights and reflects some of the positive connotations of the personification. One example that immediately caught my attention is the gold highlighting of initials close to a personification within the text, underlining its positive attributes.
One of my friends fondly asked me during my visit, while I was enthusiastically sharing my experience with them, if I would really spend 3 hours with only one manuscript. I am very happy to report, that yes indeed, I spent nearly 3 hours with O1 looking at every single folio without even realizing time flying by, because with every turn of the page there was something new to marvel at.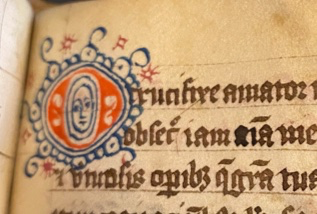 The experience of working directly with this manuscript, embracing it with all senses (well, almost all sense – the mask prevented smelling it), touching the parchment skin with my hands and feeling the differences in thickness and texture, helped me to understand the importance of it as a cultural but also as a personal object, that someone more than five hundred years ago must have invested a lot of time, passion, blood, sweat and tears in order to create it. It inspired me to now do the same (at least on a smaller scale) with my dissertation thesis project and I am looking forward to more dates with O1. Because I think it could work out between us.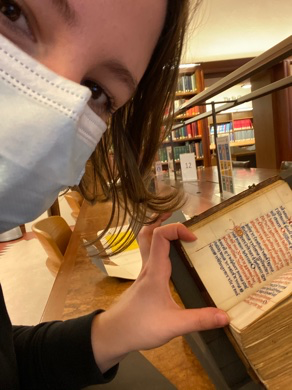 ***
Marlene Schilling is reading for the MSt in Modern Languages (German) at the University of Oxford in the academic year 2020/21, working with Prof. Henrike Lähnemann on the Medingen manuscripts.
Featured Manuscript
Bodleian Library Oxford MS. Lat. liturg. f 4 (O1): https://hab.bodleian.ox.ac.uk/en/image-viewer/?manifest=https://iiif.bodleian.ox.ac.uk/iiif/manifest/9ac86d97-b1d1-4471-96e6-8224ef872b00.json
All pictures were taken by the author.