From the Bodleian Events Team: Thank you for booking to attend our digital event, Singing Together, Apart: drama and medieval chant on 14 June 2021.  The recording of the event is available here.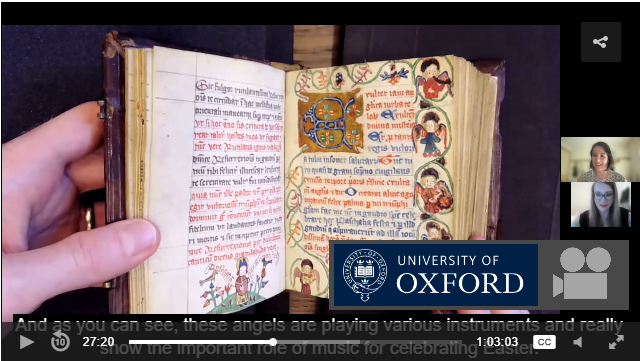 Please complete our short feedback form, if you have not already done so.  Your comments will help us improve future events and continue to expand what we can offer through digital platforms.  We would be very grateful if you felt able to take part in further evaluation for our funders – please provide your email address on the form and we will be in touch. If you would like to make a donation to the Bodleian Libraries, you can do so online on our fundraising page. Sign up to the Bodleian Libraries newsletter to be among the first to hear about future events and exhibitions, and follow the Bodleian Libraries on Twitter and Facebook for the latest news.  More singing at Manuscripts Live: Singing from Medieval Sources in the Bodleian Library
Further reading:
You can find out more about the manuscripts used in the session through the links below:
At the session there was some interest in the illuminations within the manuscripts. This subject was explored in more depth in our recent event Meet the Manuscripts: hidden treasures of medieval illumination which can be viewed here.
The Medingen manuscripts have been the subject of a number of blog posts from the Polonsky Digitisation project: Manuscripts from German-speaking lands:
Professor Lähnemann has written articles about the Medingen manuscripts for her blog and on other platforms and there is further information on The History of the Book site about the Medingen Easter prayer book in particular.
The digital event shared images of the Holy Sepulchre in the Cistercian convent at Wienhäusen. This article explores further the Holy Sepulchre and the sculpture of the Risen Christ which were central in the nuns' celebration of the Easter liturgy.
Professor Lähnemann gave a lecture exploring the Wienhäusen Easter playin the context of Easter plays more widely. The talk includes a sung performance of the scene where Mary Magdalen meets Christ as the gardener.
Gregorian Chant resources: