Part 1 of: Printing an anniversary card for Sebastian Brant at the Bodleian Bibliographical Press
Agnes Hilger
A snippet from my school knowledge memorised some time ago: Johannes Gutenberg invented "letterpress printing with movable type". As is so often the case with such facts, I didn't really think about it much at the time and just put it to the back of my mind: Gutenberg, letterpress, important.
It was only later that I learned that printing had already existed in Asia since the 9th century and that Gutenberg's innovation was not letterpress printing but rather the use of movable type.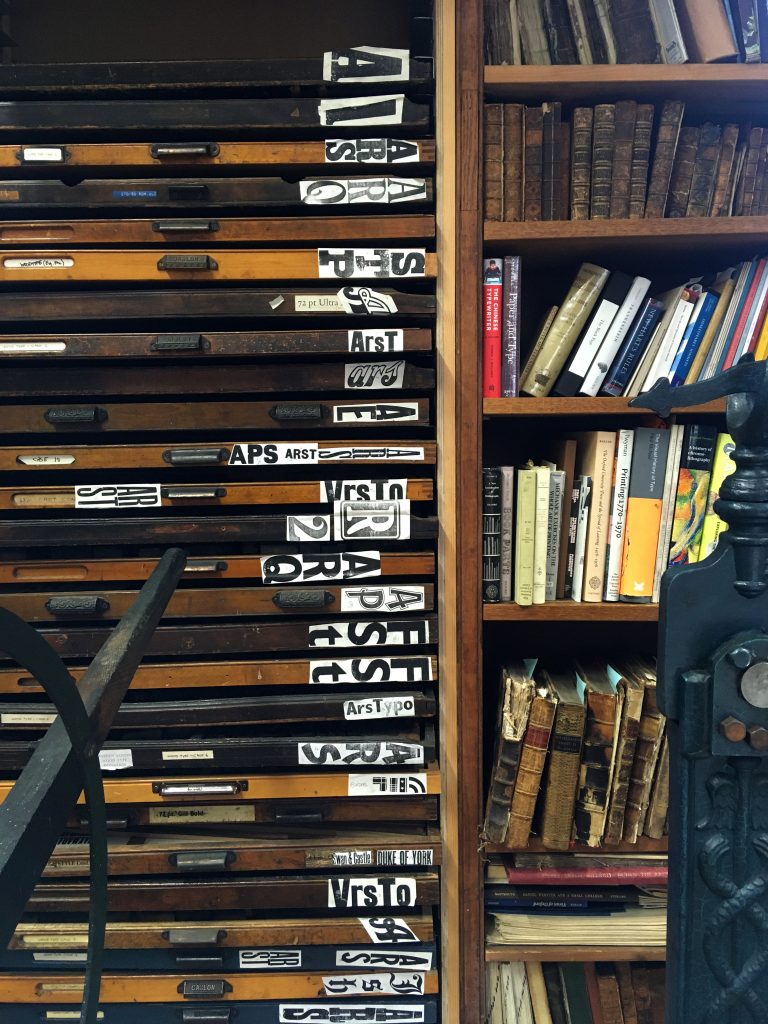 And Richard Lawrence's workplace is something like the 'office of movable type'. What appear on first glance as thin drawers are in fact type cases with 153 compartments each: upper and lower letters, spaces of various widths, special characters, dots, commas, ligatures.
The type cases are reminiscent of computer keyboards. The most frequently used letters sit in large compartments in the middle. Rare letters like x or y are found in small compartments at the edge.
The type cases are not labelled. Instead, a paper diagram maps out the location of each case. Richard hardly has to look to spell out his name on a small device that looks a bit like a ruler with attachment and is called a composing stick.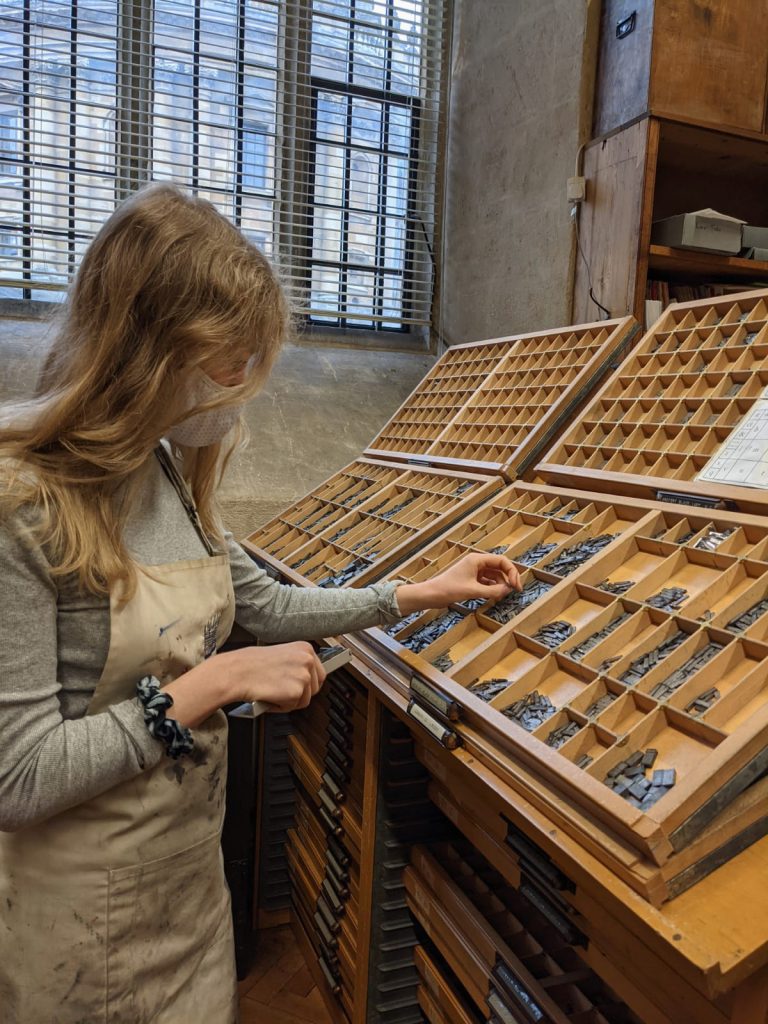 For me, however, it takes several minutes to put the letters together. In order for the letters to be printed correctly on the paper later, the letters are mirror-inverted and placed from right to left in the composing stick, which Richard tells me to hold with my thumb. Small notches on each metal rod help me to place each letter correctly. The remaining space is filled with blanks, to ensure all the lines are the same length
.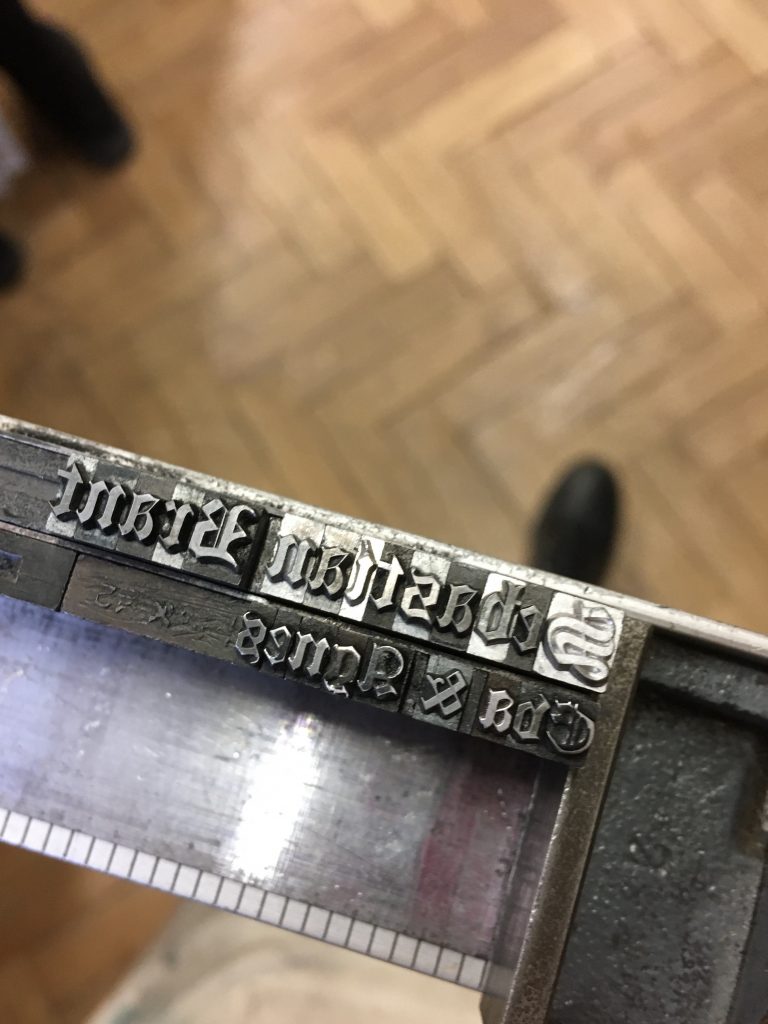 Once all the lines are finished, the famous image of the book fool and some decorations are added and they are placed in a wooden frame.
Just in time for the "Brant year 2021", we print a slightly modified version of the first page of Sebastian Brant's Ship of Fools. As we didn't know whether to congratulate someone on the 500th anniversary of his death, it now simply says:
1202 iaM .01
nov gatstrubeG .005
tnarB naitsabeS
sengA & avE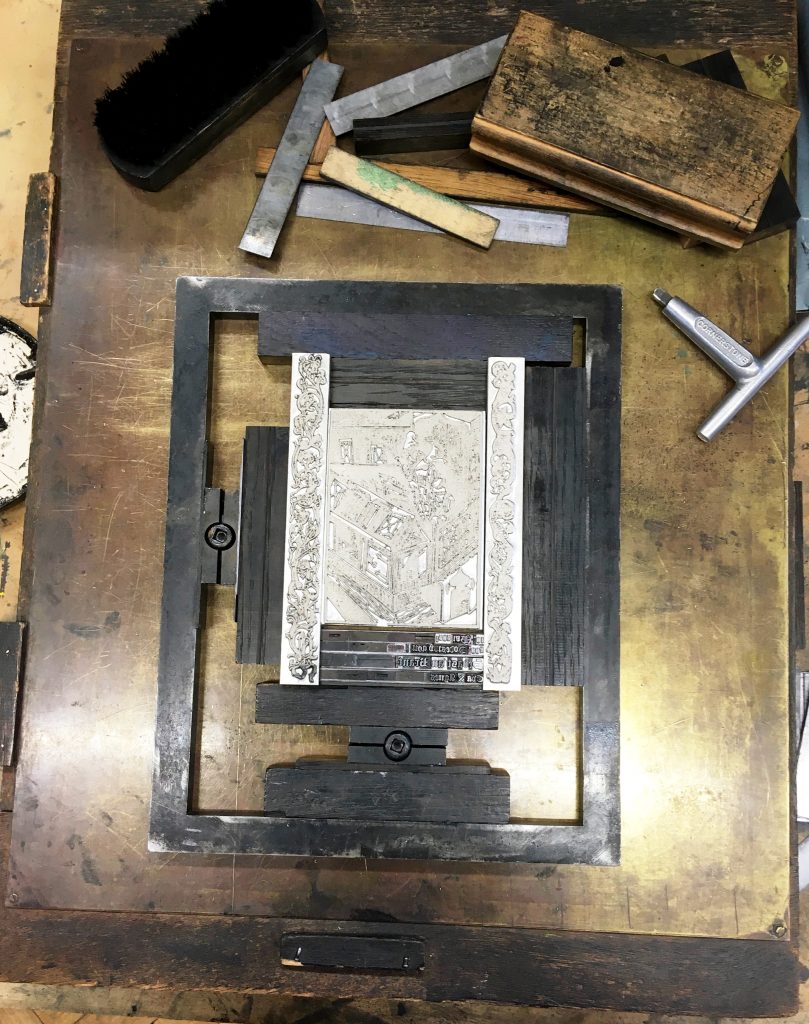 It is important that the pieces don't wobble in the frame, so Richard first fills the empty spaces with wood, then small pegs that can be stretched apart so that they hold the whole thing together with pressure. "Pure mechanics," says Richard.
Our custom-made piece is ready – at least the mirror-inverted version made of metal and wood.
If you want to find out what happens next.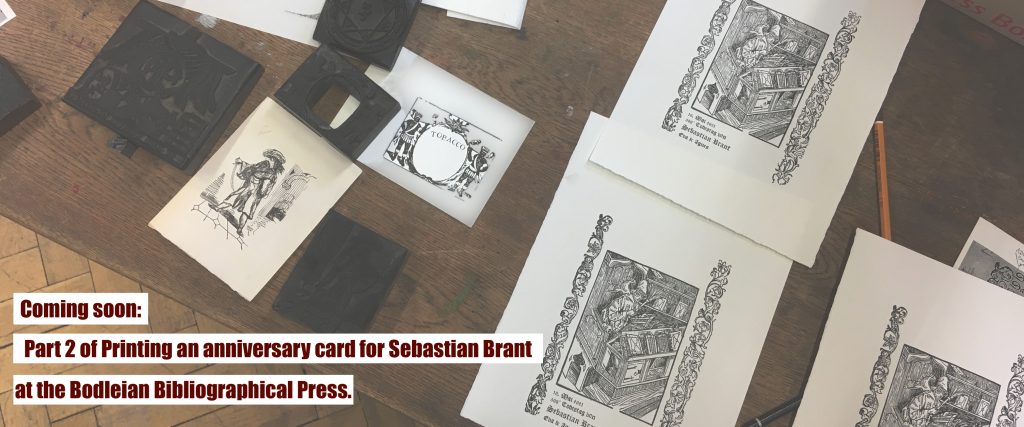 Many Thanks to Richard Lawrence and Molly Ford.
For further information about the Bodleian Bibliographical Press click here.