By Lena Zlock
Introduction "I cry: sensation!" With these words began our search for what might be an 'unicum': the only edition of its kind of Johann Amos Comenius' Janua linguarum reserata. Ulrich Schäfer, Bibliographischer Berater at the Deutsche Comenius-Gesellschaft first contacted Helen Buchanan of the Bodleian Libraries to enquire about the 1662 copy of the Janua, housed in the Taylorian Library, starting from the entry in the library catalogue. "I know more than 200 editions of Comenius's Janua. But I have never seen the edition you have. I even have never read about it." If anyone were to know about an edition like ours, it would certainly be the Bibliographischer Berater of Germany's premier Comenius society.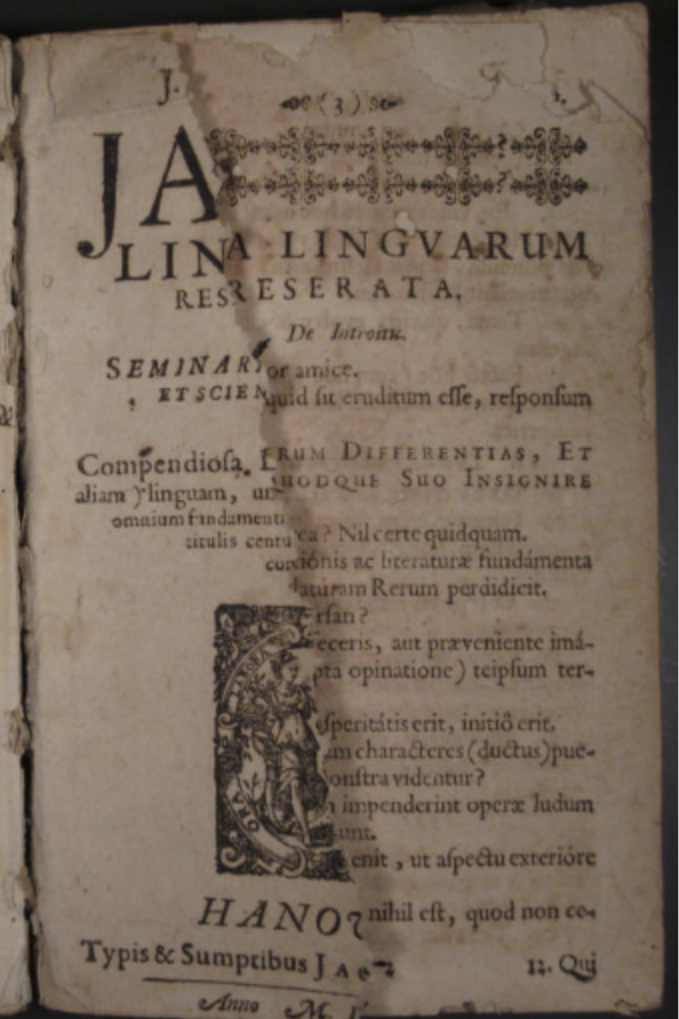 The edition We are working with a digitised edition of the Janua housed on the Taylor Editions website: https://editions.mml.ox.ac.uk/editions/comenius/. This edition was published before 1662 (the first editions were published in 1631).

The history The Janua linguarum reserata autrea is a textbook written by a minister of the Moravian Brethen, Johann Amos Comenius. To this day, Comenius remains a cultural hero in the Czech Republic for his work as an educational reformer, whose legacy prompted the curator of the Musée Pedagogique in Paris to call him the "Apostle of modern education and of world understanding" 300 years after his death.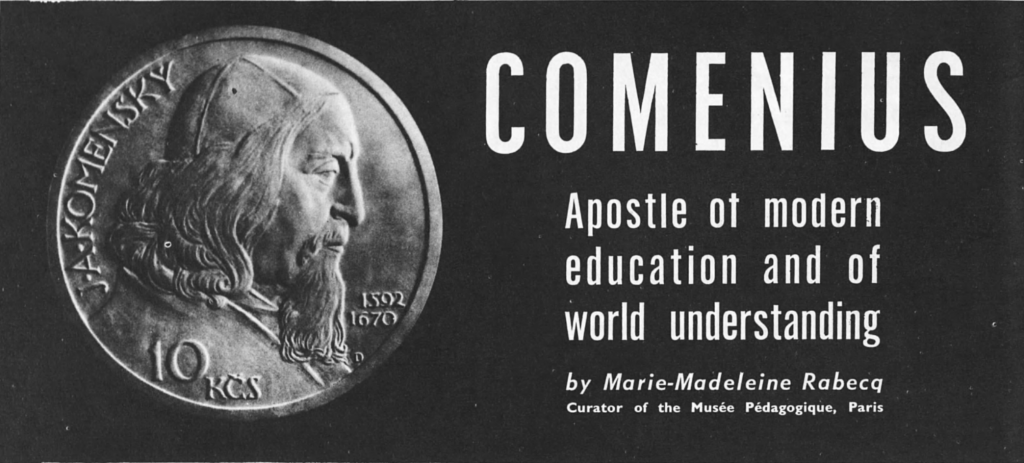 Ministering and teaching in war-torn Europe, Comenius defied his circumstances to garner fame for his works. Marie-Madeleine Rabecq observes that "efforts to make up for lost school time and his unpleasant memories of…ill-organized schools inspired him to look toward improved methods of teaching and for a school-system accessible to everyone." The Janua is part of a corpus of pedagogical works authored by Comenius during his exile with fellow Moravian Brethren is Leszno, Poland. It is a textbook for learning Latin through progressively difficult immersion in the language. John Sadler explains the structure of the Janua as
"1,000 sentences arranged into 100 chapters and taking in 8,000 words in all. The sentences are at first simple but becoming more complex in order to illustrate grammatical constructions. The grammar stressed 'only essential sufficient to enable anyone to read, speak and write the language on the basis of logical rules'."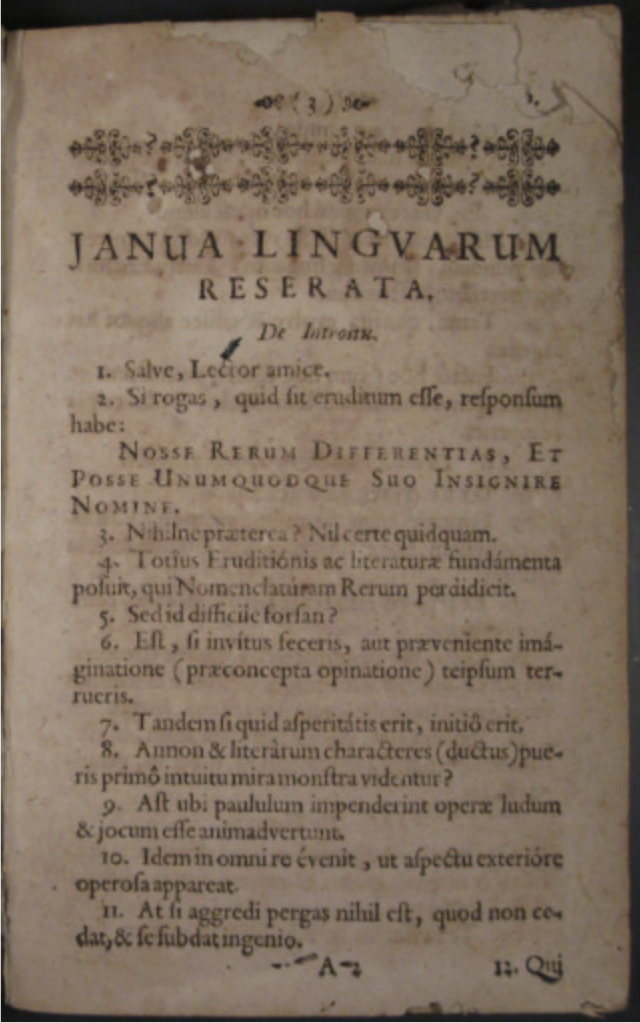 Both Rebecq and Sadler note that Comenius emphasised nature in his textbook, a focus shaped largely by his pastoral work. In fact, "thirty-six chapter are given to science as compared with twenty ro religion and morals and only six to the liberal arts." Sadler notes that "in biology Comenius was influenced by the command to Adam that he should name all creatures and plants and in consequence the 547 separate items in Janua dealing with them consist largely of names."
The work was a bestseller, so much so that the Royal Princess of Sweden herself surprised Comenius by learning Latin with the textbook. Pierre Bayle wrote that "Had Comenius written no other book than this he would have rendered himself immortal." This immortality was solidified by generations of schoolchildren who used the textbook, passing them down from one class to the next. For this reason, notes Howard Hotson, there was a massive proliferation of the textbook, but each copy was used until it was rendered useless. Therefore, it is no surprise that only one copy of an edition might exist today.

The challenge We want to see whether this edition of Comenius' Janua is truly an 'unicum'. What might make this work an unicum?
Language: It is entirely in Latin. Ulrich Schäfer pointed out that all editions of the Janua, with the exception of two, were multilingual.
Publication: The title page is ripped, eliminating the publisher and publication data. Based on the visible letters, it is possible that this text was printed in Hanau. A search of the Union Catalogue of Books Printed in German Speaking Countries in the 17th Century did not yield any results for editions of the Janua published in Hanau.
To see whether or not this text is in fact a unicum, and to confirm its basic metadata, we are launching a social media campaign, asking libraries, archives, and historians whether they have a copy of the Janua like ours. We would also like you to share what editions of the Janua you do have, to create a holistic image of the Janua in its many iterations.
How to get involved We want to see your Janua. Do you have an edition like ours? Is yours similar or different? This is an exercise in crowdsourcing, and we are looking for maximum participation. To show us your Janua, tweet an image @BkHistOx or send it in to Lena Zlock at lena.zlock@magd.ox.ac.uk.
Sources

We are grateful to Howard Hotson for his contribution to this post and to the project.

Rabecq, Marie Madeleine. "Comenius, Apostle of Modern Education and of World Understanding." The UNESCO Courier, 1957, pp. 4–16, https://unesdoc.unesco.org/ark:/48223/pf0000067956.

Sadler, John. J A Comenius and the Concept of Universal Education. Allen & Unwin, 1966.